Arising and passing away down memory lane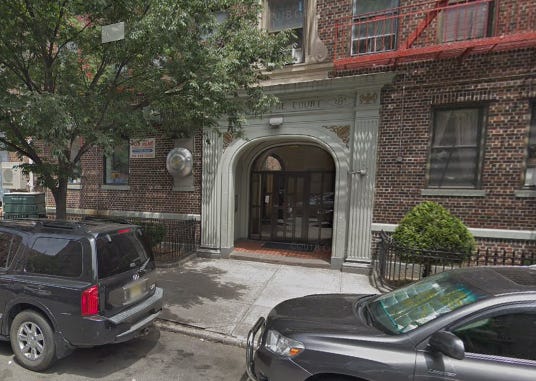 A few morninga ago, I sat down, closed my eyes and intended that my mind present me with scenes from my past. After a very short delay, my mind complied. Things that matched what I had intended appeared in conciousness.
Good mind! Here, have some gratitude. You deserve it!
What appears
When I ask for memories like this, I often get flashbulb memories — vivid pictures with no sound and no motion. I see things, rarely people. I'm no longer in the present. I'm back there and then. But something closer to there and then than to here and now.
The first thing that appears in consciousness is the apartment building on Crown Street in Brooklyn. It's where I first lived after coming home from Unity Hospital, where people have told me that I was born. I don't remember it.
The apartment was on the corner of Nostrand Avenue and Crown. A blurry picture of the front of the building appears. I Google. A less blurry, more recent picture arises.
A picture of a hallway and a door that I think is the one to our apartment appears.
Images of a temple that is down the street appear. One image is from the outside, another is from inside. It was an orthodox temple. The men sat on the ground floor and the women in the balcony. I'm on the ground floor, with people around me. I can't see the people, but I know they are there.
Images of the barber shop of "Pete the Barber's." appear. It was down the street, on Nostrand Avenue. Black barber chairs and mirrors inside appear. The barber pole in front of the shop appears. The kind face of a man who might be Pete appears.
An image of being in a car at night riding along under sodium vapor lamps lighting the Belt Parkway appears.
Thank you, mind.
Images of our second home, 350 East 55th Street Brooklyn, appear. Flashbulb memories of the kitchen appear. Jelly is being made from grapes from the back yard.
An image of the living room with tapestries or a mural on the wall appears.
An image of the driveway appears. That's all.
The fact that it was a duplex, shotgun style, appears.
The name of the family that lived next door arises. The name was Komenko. His name was Rudy. Hers was Manya. One or both had acne or smallpox scars. These ideas and images arise.
An image of Uncle Morton's house in Riverhead appears followed by one of Uncle Joseph's home in Patchogue.
An image of our family driving through the Lincoln Tunnel early in the morning on our way down to Washington to see Uncle pick and Aunt Henrietta appears. Looking at the image, I can see the tunnel outside the car. I don't see anyone people inside. The memory that we used to get up at 5 AM to get through New York before traffic arises.
And passes away.
Flashbulb memories of a trip we took to Maimi one year arise and pass away.
Images of Wolfies, a restaurant where we went for breakfast arise and pass away.
An image of the all-you-can-eat place where we went for lunch sometimes arises and passes away.
An image of the front of the hotel where we stayed arises. It's blue. The image passes away.
An image of North Carolina, on the bridge that went from Hickory to Uncle Morton's place outside of town appears. The memory that his home was called "Turning Point" appears. An image of the driveway arises and passes away. Images of the living room and things that I did there arise and pass away.
The memory that Turning Point was next to the home of Morton's friend and mentor arises. The memory that his name might have been Charles Boedeker Smith arises. The memory that my cousin CB is named for him arises.
They all pass away.
A memory of CB reciting what he was taught growing up in the South arises. The memory contains the sound of his child's voice with its southern accent saying:
"Why I hate Yankees.
"Long, long ago, before Mommy, or Daddy or I was born, the Yankees came down and burned all our houses.
"And that's why I hate Yankees
Then that passes away.
What appears in consciousness?
The idea of asking my mind for some memories—the idea that led to this post—arose in consciousness.
Before it passed away, I followed that idea and asked my mind for memories.
The memories arose in consciousness.
In between memories, I did some Googling.
I asked Google for information by typing, speaking, pointing, clicking.
The information that I asked for arose in consciousness—via the internet and my browser.
What is the relationship between Google and the rest of my mind? I ask both for information and information arises and passes away.
What does all of this mean?
What is it good for?
I don't know.
Maybe I'll do a podcast with my brother and sister.
Intention
Several days ago, the intention to write a post about this arose.
It was strong enough that I scribbled some notes in my notebook. It was not enough to produce a post.
The day before yesterday I wrote this post. Afteward, the intention to write this post was stronger.
I didn't intention that might have caused me to abandon it get in the way.
I worked on it diligently when I had time.
And this morning, I finished it.
​