Cancer!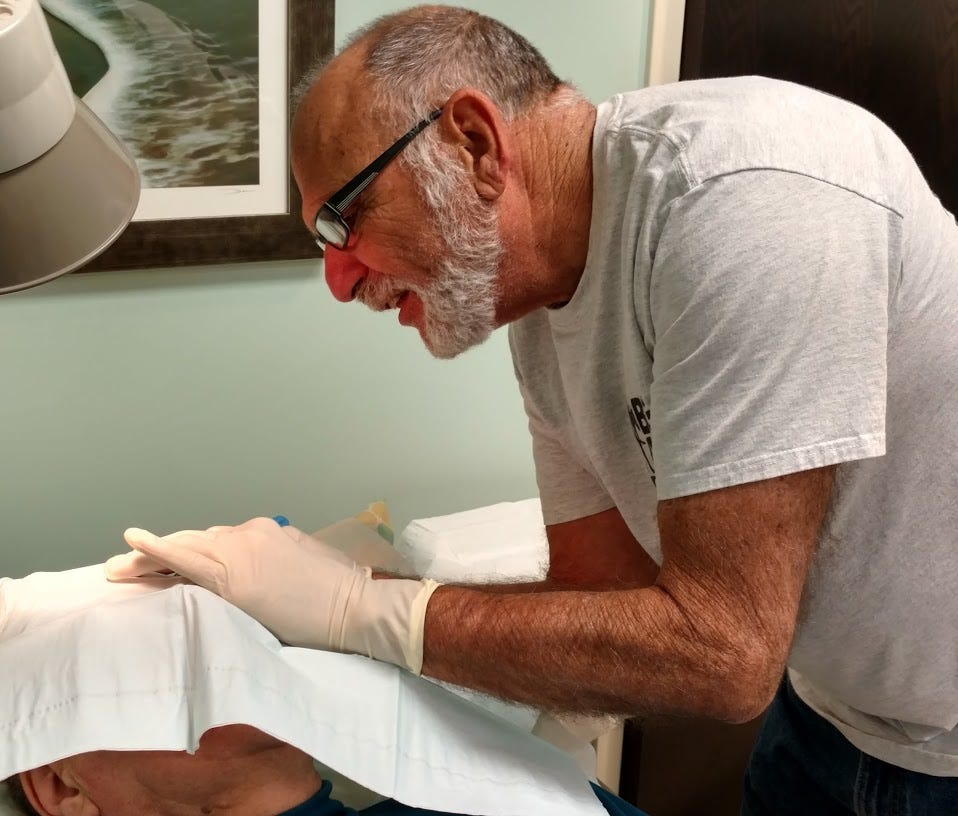 Everything in life teaches you something. Here are some things I've learned from cancer: mine, and others.

Oh, you didn't know that I had cancer? Sorry. Forgot to tell you. Actually I didn't know myself until yesterday. And by then I didn't have it any more. Or I didn't have that particular cancer any more. I probably have others. Which sucks. But they are likely not really bad. Which mitigates the suckiness.
Let me start over.
Bobbi and I were in Florida visiting my brother, the doctor. He saw something on my head that he didn't like. Aside from my face, haha.
What he saw was a little scabby thing on my forehead. He asked me about it. I told him that it had been there for a while. I kept picking at it. It would scab over. But it never went away. So he said he wanted to take it off. The scabby thing. Not my head. Ha ha.
He's a doctor and can do those things.That's us in the picture. He's the one whose face you can see. He took it the scabby thing off and sent it for a biopsy. A couple of days, his son, the other doctor, called and told me the report came back. Basal cell carcinoma. Clean margins (which means he got it all). But still.
As I said, my brother is a doctor. Technically he's a retired doctor. Even more technically he's a retired doctor with cancer. In the picture, technically, both brothers have got cancer. You can't see mine because of the thing covering my head. You can't see his because it's not one of the visible, easily removed kinds. If you ever insist on getting cancer (not something I advise) then get my kind rather than his kind. He's been diagnosed with it for six, years and counting. And get his kind rather than the kind that pretty quickly and fairly horribly killed our friend Tom
My kind is called basal cell carcinoma. I'm calling the one that my brother took off Basil. Basil the basal cell carcinoma. According to Wikipedia, It's a very common kind of cancer, develops very slowly, and there are things that you can do about it. Like chop it off. But also other things. From the main symptom I associate with this one (little scabby thing that won't go away) I'm guessing I've got at least one more, maybe a couple. Concerned? Yes. Worried? No.
His kind is called myeloma and it's bad. Right now what he's got is called "smoldering myeloma" which means "wait around until your myeloma bursts into flames and then watch the clock." The median survival rate once you are symptomatic is 4.5 years. Crap!
Mine is nothing. Well, not nothing, but not much. I can, with some difficulty, think the thought "I've probably got more cancers growing in my body" and set off my limbic alarm system. But it's not very loud, and I have to work at it to keep it on. Like I'm trying to do as I write this.
And I'll stop ignoring those other suspicious places, and have my skin (lots of moles) checked by a doctor again this year like I'm supposed to do every couple of years. I do check myself, and the one time I found something that I didn't remember having THAT turned on the full limbic alarm system to the degree that I couldn't wait a week for my doctor to see me and went to a local walk-in clinic because swapping $90 for either peace of mind or a one-week-earlier start seemed like a good deal.
So I'm not worried. I was actually more worried when I found out about his cancer than I was when I found out about mine. I mean worried about me. Of course I was concerned about him. I am a certified asshole, but not that bad. But as he described the symptoms I thought: "My god! I've got that, too." And rushed in to my doctor for some tests, and did a lot of thinking about mortality.
He's getting a checkup at the cancer clinic in Arkansas, right now. He's been been going there every six months since he got the news. His condition is progressing, but very slowly. For which I and all the people who love him (and there are many of us) are grateful. Coincidentally we'll be driving through that area tomorrow on the way to the Coast.
I have no personal experience dying, but I've heard we all die some day. There's no way of getting out of here alive, they say. But until then we do the best we can do. And right now, today, this is the best I can do.