Falling behind and catching up, and why I love Google Search History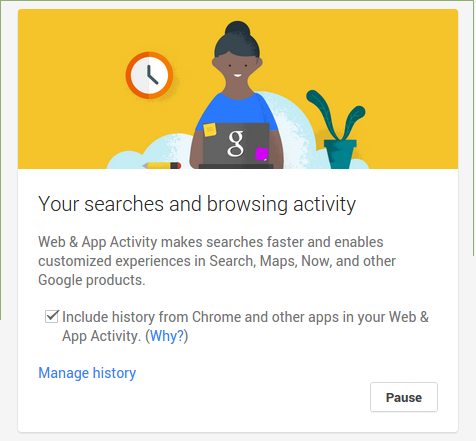 Maybe I haven't set the bar low enough. Or maybe I can't set the bar low enough. Or maybe I just don't want to. Whatever my excuse, I've managed to fall more than a week behind on my blogging. So: it's going to be two posts a day, filling in the past while moving into the future.

And that brings me to my latest love: Google Search History. We all know that browsers keep track of history: the pages that you visit. But that's per browser, and it lasts until some preset limit is reached. Google Search History does you one better: you can consolidate all of your search history in one place, regardless of device.

If you use Chrome as your browser (and you're basically an idiot if you don't) then it will also give you your browser's history, all in one neat package.

To get search history turned you go to the search options page for your account. That's here. If you opt in, your history will be logged for whatever account you are using on whatever device you're using it on. And click the checkbox to get your Chrome and other history too. Got it?

Now the next step is looking at your history. You do that by going to your history page which will be here. You'll have to provide your name and password, but if you're using Chrome and Chrome Sync and you've let Chrome remember your password then all you have to do is press enter. Easy!

That will give you something that looks like this: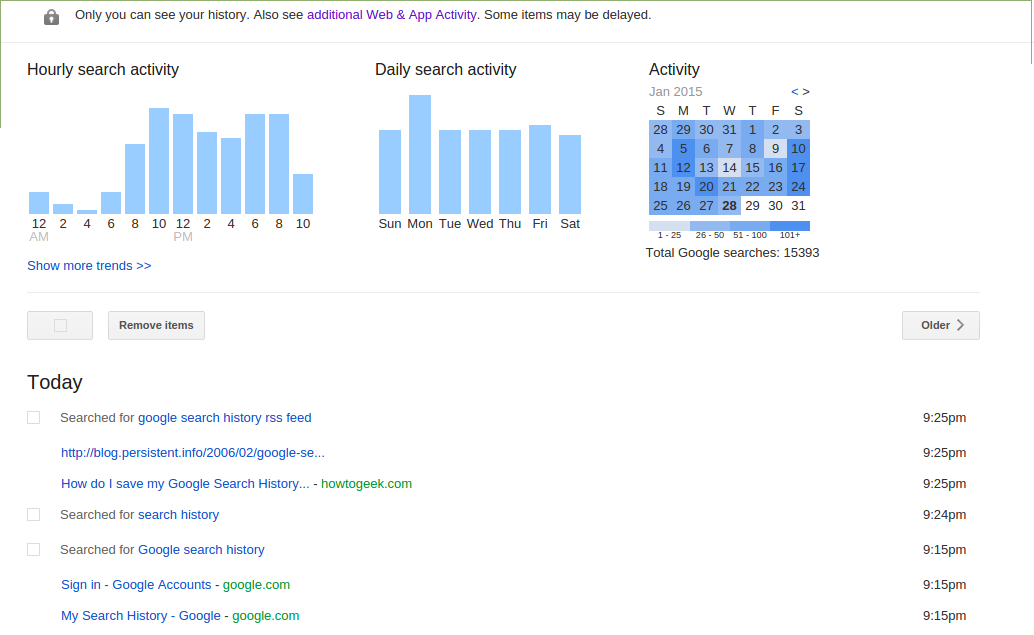 As you can see, I do a lot of searching. And I just spent some time searching for stuff for this article.

Now the final step: If you click on a day in your calendar, you'll see the search history for that day, or, if you are like me, for a part of it--about 50 records worth And then you have to keep pushing a button at the top or bottom that says "Older." And note: there is not one that says "Newer," but only "Newest" Arghhh!

But there's an answer. When you click on a date, the URL will look something like this:

https://history.google.com/history/lookup?hl=en&max=1420520400000000&month=1&day=5&yr=2015
Add the following to the end of the string:

&num=1000

Now instead of the default, which looks like it's about 50 records, you get about 1000. And when you click the "Older" button you get another 1000. That's pretty good.

So now I can know what I've been searching for since October 2012 with my current favorite Google account, and 2009 with the one that I mainly used before that.

And I can use that history to retroactively post all the stuff that I've learned about. Booyah!!