Getting old is not for sissies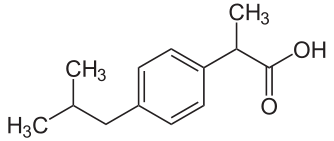 Structure of ibuprofen (Photo credit: Wikipedia)
I thought that getting old would be easy to the extent that I thought about it at all. I imagined the "old me" would be just like the "young me" only with gray hair and wrinkles. And I wasn't all that clear about the wrinkles.
Then I started to get old, and saw things that I had not anticipated. Like deep lines. And sagging flesh. And a mouth that seemed to droop down. Not me at all.
Then I got even older, and discovered things that I hadn't thought about at all. Like being tired.
Now I knew about being tired, of course. I'd stayed up for 48 hours straight on more than one occasion and, sure, I got tired. But not so tired that I couldn't gut my way through. Or take a power nap and emerge with enough energy to keep going. And no matter how exhausted I was, I'd be OK after a good night's sleep. Not perfect, mind you, but OK.
Now I go down to Boston for a weekend and I come back utterly wiped out. It takes days for me to feel that I've "recovered." And by some standard (mine) I'm never quite recovered. Because no matter how much sleep I get, when I wake up I'm never thirty.
Then there's pain. If you'd have asked me why old people walk slow I'd have answered something vacuous ("Well, they're old") or something partly correct ("Well, they're trying to conserve energy.") But the number one reason that I'm slowing down these days is pain. The number two reason is fear of injury.
In late July I did something (a few things) that resulted in severe, continuing pain. I compromised my knee and then my back. I spent a few weeks with a significantly lowered IQ, and I think I still have not recovered. And I'm still wary of injuring myself again. So I move slowly.
There's a feedback effect, of course. If you think slowly then you move slowly. And if you move slowly then you think even more slowly. I think that there is real science that says this, or something like that. If not, there should be, because it's true.
When you're young I think almost anything you can reasonably do is beneficial. It's almost impossible to run fast enough to hurt yourself. You can try to lift the heaviest weight that you can and your muscles will fail (can't lift more) before your body does (bones break, tendons tear). When you're old it's easy to hurt yourself. Running is out because of my knees, and also my back. Walking is possible, but it must be done cautiously, with due attention to how the body is responding, and with ibuprofen beforehand to guard against inflammation.
I thought that getting old would be easy. Turns out that's not true. It's a challenge. So I have a choice. Either take the challenge and struggle with the process of aging, or give up.
I accept the challenge. Now it's time for some ibuprofen and a walk up the hill.
Click here to subscribe to 70 Years Old. WTF! by Email
​