My love affair with software: Part 1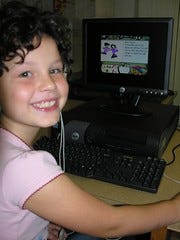 Software using software.
(Photo credit: Old Shoe Woman)
I believe in the power of software.

Not just software the way most people think about it--software programs for computers. There are many other kinds of software and I believe in their power as well.

Software is invisible, weightless, and timeless. We can't perceive it directly; we can only perceive its representations and its effects.

Software is all around us. Software is in us. What I call software is what makes us unique as humans.

I define software as everything in this universe that isn't hardware. When people think of hardware they think of hammers, nails, and sometimes of computers, but there are lots of other things that qualify as hardware, and many of them have software inside them. A book is a kind of hardware and what's in the book is a representation of a kind of software. Your brain is a kind of hardware and what's in your brain is a kind of software. Computers are a kind of hardware and computers are full of different kinds of software.

Software is the force that has made, is making, and will continue to make our world what it is. This isn't something new. Software has been at its job for billions of years. Software started slow, started to accelerate, and now is boosting its own acceleration.

In the beginning, all software was created by accident. Then living things began to use both intentional and experimental processes to create software. Eventually humans appeared, thanks to some of those experiments, and humans started getting very good at creating new kinds of software--ideas, poetry, music, literature, culture. All invisible except for their effects and its representations. All software.

Then humans developed computers and computer software, and that blew the doors off. One way or another software amplifies human ability, including the ability to create software. Computers and computer software help people create old kinds of software, faster and with less effort. Now computers and software are helping people create even better computers that run even better software, including software that could help create even better software and even better computers. The process feeds on itself and accelerates.

Creating software is one of the coolest things that anyone can do. I've spent most of my life creating lots of different kinds of software, including this post and this blog. I've created a lot of software for computers, too. But the kind of software I like best is software that helps me and other people create more and better software. That's one purpose of this blog.

Software that helps you understand software helps you create better software. That's what I'm doing in this post, for myself at least, and maybe for others.

I'm writing it to help me, as part of Project 70, modify some of my own software.