Personal Journeys and Jew Overflow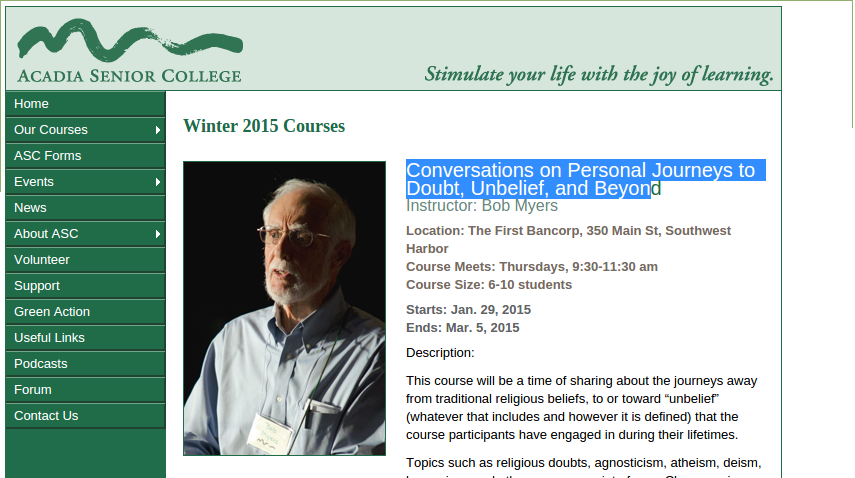 In an earlier post I wrote about the book we were using for this course. Now let me tell you about the course, and the change it's catalyzed. There will be more posts to follow on this topic

Anyhow.

We had our first session today, (January 30) and Bob Myers, the guy who is running the course told us what he had planned: each of us will have a half hour (two people a session, times five sessions) to tell the group about his or her own spiritual journey. Then, following each person's half hour we can ask questions, comment, and discuss what we've heard.

Bob went first. We learned that he was brought up in a Christian home; was called to the ministry; graduated and took his first position but found himself not entirely suited to it. He went back to school for a masters, took another position, went back to school for his PhD and ultimately decided he no longer believed. He spent most of his professional life as a Biblical scholar. So his journey took him from believer all the way from believer to atheist/agnostic. And given the fact that he liked "The Problem With God" he's now a person who wonders if even the idea of God has meaning. much less God Herself.

While Bob was talking, I started to remember episodes of my own life: my upbringing as a nice Jewish boy. Being Bar Mitzvahed. My flirtations with Christianity, Christian Science, Buddhism. My life in Scientology. And beyond.

That evening I went to the weekly meeting of the Maine Hackers Club and mentioned the course, and my Jewish upbringing. One of the guys, Michal, asked me if I'd seen the Stack Exchange site about Judaism. Everybody in tech knows about Stack Exchange, because their lead site, Stack Overflow is usually the number one or two response when Googling a programming question. Other Stack Exchange sites rate high for other tech questions. For those unfamiliar, here's a quote from their About page.


Stack Exchange is a network of 130+ Q&A communities including Stack Overflow, the preeminent site for programmers to find, ask, and answer questions about software development. ... Since then, the Stack Exchange network has grown into a top-50 online destination, with Stack Overflow alone serving more than 26 million professional and novice programmers every month.
Michal said that the Judaism site discussed questions like: "Are mermaids kosher?" Michal referred to the Stack Exchange site for Judaism as "Jew Overflow," which I thought was hilarious.

And they do have a discussion about kosher mermaids. And another discussion on the site is about computers in a Jewish school, specifically: "Is there anything halachically or hashkafically wrong with installing reference computers in a Bet Midrash?" What? So I had to find what halacha was, and hashkafa. And Bet Midrash. Translation: is there anything wrong, according to Jewish religious law, or custom with installing reference computers in the study hall of a Jewish temple or school.

The discussion on the site is interesting and explains why Jews are such good lawyers. Issues like these are often argued carefully, citing torah, haftorah, and the writings an pronouncements of rabbis through the ages.