Sh*t sticks, or why fair minded people, like me, dislike Hillary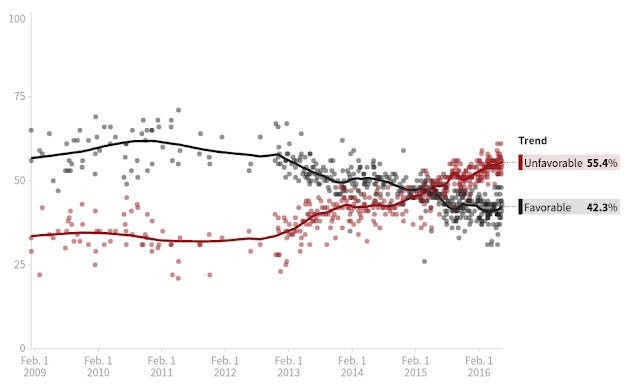 Everybody dislikes Hillary. Not any of the left-leaning folks who I know. And the right-leaners? Fuggedaboudit.

I don't like her either. But I've concluded that I dislike her more than she deserves. Why? Because of data and science.

Science says that understanding implies belief. So whenever I've heard and understood something negative about Hillary and I haven't categorically rejected, I've unknowingly accepted it.

Unknowingly. That's what the science says.

I'm an open minded guy. So I don't accept things without evidence. And I don't reject them without evidence, either. Instead, I put them in a category that might be called "understood, but neither accepted nor rejected."

But science says there is no such category. So when I thought I was deferring judgment, I was really accepting the conclusion.

Anecdote is not proof, but it can illustrative. I've got two personal examples of this mechanism in action. One is a negative belief about Hillary Clinton and one a positive one about Donald Trump. I believed each because I had insufficient grounds to reject them when I heard them.

Writing this article has given me the data to know that the statements were false. And gave me the grounds for rejecting what I once believed.

And it taught me a lesson about the dangers of being open minded.

1.
Open minded people, like me -- and I hope you -- think that our minds work this way: we make critical judgments in a two-step process. Step one is understanding. Before we can decide whether or not we believe something, we need to understand it. Step two is judging -- only after we understand something can we choose to believe or disbelieve. And course, we make our choice based on evidence. We don't do step two until we know enough.

Dumb people don't do that. They believe whatever they hear from Fox News or MSNBC or whoever they listen to. But we smart, open-minded people are different, right? First we understand something, and then and only then do we decide whether or not whether we have good grounds for believing it or for rejecting that which we have understood. If we don't have enough information we file such facts under the heading: "I heard this, but I don't know if it's true."

Moreover, we open minded people are willing to reverse previous conclusions based on the weight of the evidence. That is: if we get enough evidence to form a conclusion, the order in which we got it does not matter, only the evidence itself.

Sorry. Science says different.

Both premises -- that there is no "don't know if it's true" bucket and that we have a lot of trouble changing our conclusions once we've made them -- have been tested experimentally. The citations to research are below. Follow the links and judge the evidence if you don't believe me. Or you can file my assertions under "I read this, but I don't know if it's true." I don't care which you do, because they lead to the same result. Belief.

Some of the research I cite was done by Daniel Gilbert a top-flight researcher in psychology at Harvard. He's the author of the (once) popular and very good book "Stumbling on Happiness." And he's done a couple of TED talks on other research he's done. In this paper he explains his research on this topic, and he cites about a dozen other papers that arrive at the same conclusion: we tend to believe what we hear, even when presented with no evidence. Indeed, under certain circumstances, people tend to believe repeated assertions even when they are told the assertions are false! Gilbert's paper builds on prior research and contains a clever series of experiments that show more precisely why this is so.

The paper shows that if we are told something and we don't consciously reject it, that we store it our brains as "true." Each such "fact" lends its weight in future analyses, because as the paper says (with citations to experiments demonstrating this) "Once such beliefs are formed, people have considerable difficulty undoing them."

These two facts about human cognition explain why open-minded people might come to dislike, or to like some people more than they deserve. And by deseve I mean: "based on real evidence and objective analysis and independent of the order in which the information is received."

It explains to me why I -- and other people -- might dislike Hillary Clinton more than she deserves to be disliked.
2.Supposing you are an open minded person, and you hear--over some period of time -- thirty nasty things about Hillary Clinton. Suppose you accept five as true -- either based on consistency with prior knowledge or based on high trust in the source. Five you similarly reject as false. And twenty you reserve judgment on.
Here's the score that you think you've got:

True (nasty): 5
False (not nasty): 5
Unknown: 20

But here's how science says your brain recorded them:

True (nasty): 25
False (not nasty) 5

If all thirty statements are nasty, you'd have an undeservedly negative view of Clinton. If all thirty were positive then you'd have an undeservedly positive view.

But where and when are you going to get thirty positive statements about Hillary Clinton other than by reading her website?

Practically nowhere, and almost never.

How about negative things?

Practically everywhere, and for at least twenty-four years.

Seriously. She's been in the public eye since 1992, and she's been attacked repeatedly since then. Some of the attacks have been ridiculous, and I've rejected them. Some have been clearly correct, and I've accepted them. But most of them, the vast majority of them -- I had no idea about. Couldn't say. Not sure. So they went in the nonexistent "I don't know if this is true" bucket, better known as the "true" bucket.

If I had drunk the leftist kool-aid, I'd have a different view. I would have rejected every single criticism that wasn't absolutely confirmed. Meaning: I'd have rejected just about everything. If I had drunk the rightist kool-aid, I'd have believed almost all of it. But I'm an independent-minded guy. So I ended up -- wait! I ended up just like the rightist.

Over twenty-four years I've built up a view that she is untrustworthy, dishonest, manipulative, and unlikeable. And I think that's in significant part because I have not actively disbelieved that which I could not reject.

I don't believe these things with the passion that someone who hangs on Rush Limbaugh's every word would have.

But still, I have a view of her that I realize, rationally, is deeply unfair and undeserved.

3.
Old saying:

Q: How do you avoid making mistakes?
A: Gain experience.
Q: How do you gain experience?
A: You make mistakes.

From first principles (and I think this is a good first principle) someone who has more experience will probably have made more mistakes than someone with no experience. And in politics, every mistake that you make will be roundly criticized.

Look at this data from the Roper archive at Cornell.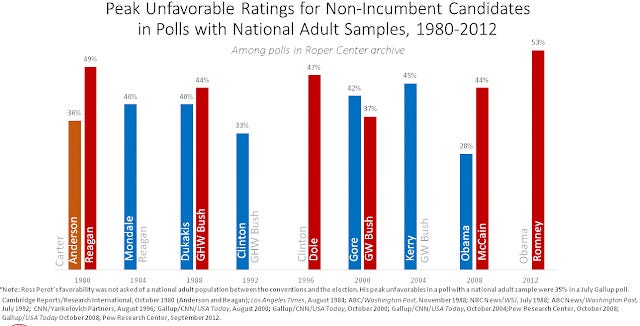 Romney leads the pack with peak unfavorables at 53%. Reagan, a well known public figure before he ran, at 49%. Dole, after years in the Senate at 47%.

Obama was the least disliked, with peak unfavorables at 28%. And the little known Bill Clinton, before becoming president, at 37%.

Since Hillary Clinton has been out there, publicly gaining experience -- by making mistakes -- for twenty-four years you'd expect two things. First: that she'd have made many more publicly visible mistakes in judgment than someone who has done almost nothing. Which is one reason she lost to Obama. So she'd have been attacked, justifiably, more often. And second that she'd have been attacked, unfairly, more often. Since people (like me) didn't have enough information to reject most the attacks, and no reason to research them, then people like me did not reject most. So we accepted them.

For a quarter of a century she's been criticised, scrutinized, investigated, lambasted. I'm not surprised that her unfavorables are high.

I'm surprised that any independent minded people think anything good about her at all.

4.
Read the headlines. "Poll: Trump, Clinton score historic unfavorable ratings." "Trump vs. Clinton Poised to Be Battle of Most Disliked Nominees in Decades" "Americans' Distaste For Both Trump And Clinton Is Record-Breaking"

Nobody likes Hillary. Her unfavorability ratings are historically high. Seems right to me.

Huffington Post has her at 55.4% negative. Gallup, has her at 54%.

But looking at history, the nearest contender, Mitt Romney, was -- wait a minute! Just 1.4% less? And Reagan? Almost as high? What? But nobody likes Hillary.

Go check the records and you'll see the pattern. Almost nobody is below 40% because, as I've said elsewhere:


.the reality is if the GOP put up a half-dead monkey and the Dems put up a ham sandwich, both should poll over 40%.
Almost nobody has unfavorables below 40% because half-dead monkey voters will find the ham sandwich unfavorable, and vice-versa.

If you look at Hillary's trend over the past year you'll see the unfavorables tipping up. That might reflect the fact that she's been under attack from both the Bernie fans, and the Republicans. We don't know how much of her unfavorable is due to her "not being Bernie enough" and how much is due to her being "too Hillary." But it why they are as high as they are is not the point.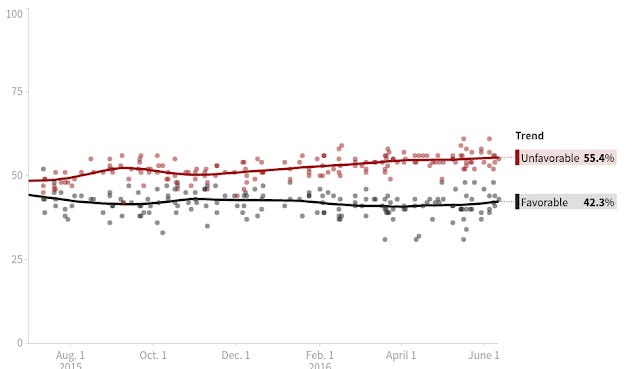 The point is that both she and Trump are at record highs, aren't they?

I picked the time frame for Hillary so you can compare with the polling history for Donald Trump. Here's what they other "historically disfavored" candidate looks like.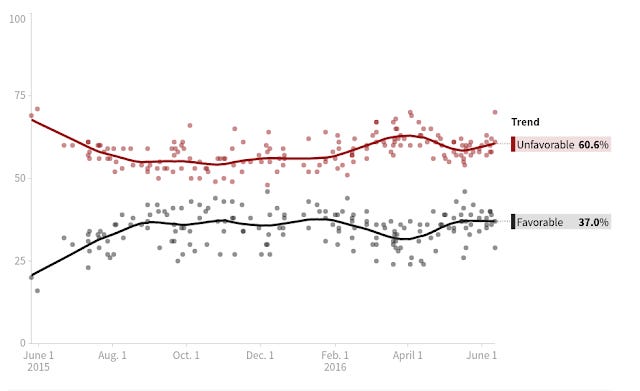 Wow! That's quite a bit different from Hillary. And everyone else. Hardly ever below 60% unfavorable and after the recent drop (presumably as he became the presumptive) it's on its way back up.

That kind of unfavorability is unheard of. That might be epic.

So it's misleading to believe, as I did, that America's dislike for them both is record-breaking.

It's more accurate to say that America's dislike for her is above normal, and dislike for Trump -- that's record breaking. Seriously.

Accepting the news without studying it, I believed the lie that Trump and Hillary were similarly disliked.

The data shows that was untrue.

I accepted it true because I had no grounds to disbelieve. Until I did the research.

And now, I know it's kind of bullshit.

5.
Shit sticks.

If you pay attention to the media you'll see that everyone gets lambasted pretty heavily. Here's what the picture looks like.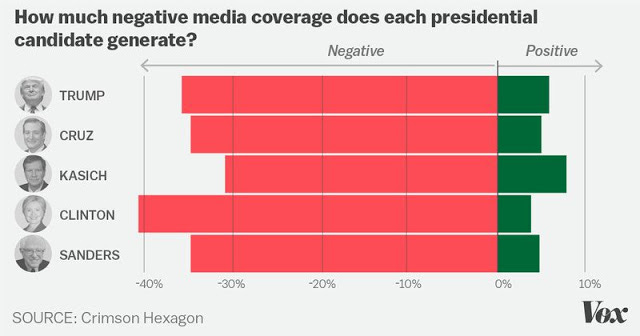 Everyone's got plenty of negative news coverage. Which gives open minded people good reasons to think worse of each of the candidates than they deserve. And we do.

We pretty much dislike them all. We dislike some more than others, but they're all slime -- because we don't know which accusations are true, and we can't check them all out. So we believe almost all of the negative press.

What the chart doesn't show is how much of the negative and the positive is being believed -- again, by open minded people.

And it doesn't show how the shit builds up over time. Twenty four years of shit flung at her. Some of it will have stuck. It has to have stuck.

And once enough sticks, there's a human tendency to assume that the next bit of shit is true. Not "I don't know." Because now we have prior information on which to base a conscious decision. It's "yeah, I guess I believe that."

This is "confirmation bias," the well-studied mechanism that causes people to interpret new information and to recall information in ways that confirms what they've already concluded. Confirmation bias can be slight or severe. Someone who has swallowed the Trumpian Kook-aid and decided that Hillary is a crook will enthusiastically believe any suggestion of criminality. Someone, like me, who thinks they are open minded, will no longer give her the benefit of the doubt.

But even giving her the benefit of the doubt makes no difference. Without strong evidence to refute a criticism, we believe it.


6.
My view of Hillary Clinton? I still don't like her. I haven't for years. I have reasons for disliking her, but the reasons that I have -- examined dispassionately -- don't match the degree of distaste I feel for her. I've been watching shit flung at her for a quarter of a century, and enough has stuck to compromise my view.

I know it, but that doesn't matter. Writing an essay acknowledging that I have an unfair view of her makes scant difference.

I don't like her. And I'm convinced that she does not deserve my dislike.

If you are an open minded person I'm going to guess the same is true for you.

Trump, on the other hand? I don't listen to the Democrat echo chambers -- or the Republican ones, so I don't come with nearly a quarter a century of built up baggage.

Instead, open minded as I am, I formed my opinions based on facts -- by actually listening to what he said. In a field of people spouting the same tired platitudes, he stood out.

I heard him take down Jeb Bush over his brother's stupid war in Iraq. Way to go Donald! About time someone did that!

And he was against the war from the start. Did I know that was true? Well, no. I did not. I had no evidence. So I put it in the "understood, but not known to be true" category. Which I hope you now know means: I believed it.

But -- wait. Facts.

Here's a collection of facts from one of those annoying fact-checking organization. There's Trumps whole timeline of public statements on the war, starting with this -- a year after 9/11 and before the invasion:

Sept. 11, 2002: Howard Stern asks Trump if he supports invading Iraq. Trump answers hesitantly. "Yeah, I guess so. You know, I wish it was, I wish the first time it was done correctly."
Wow! You can listen to the take down. If you want to hear it yourself it's at 3:40 on the Soundcloud clip linked to the quote.


Stern: "Are you for invading Iraq?"
Trump: "I guess so."
I'm not sure if the way he hesitates before saying "I guess so" shows that he's totally against it. I actually I think "I guess so," means that he guesses he's for it. But maybe that's just me.

But that's not all. There are more examples of him not opposing the war before he finally opposed it. Like this, from an interview in 2003:

Trump: "The main thing is to get the war over with and just make it a tremendously successful campaign and it will be very interesting to see what kind of weapons they find."
See his criticism there?

Don't see it?

Neither do I, actually. It kind of sounds like he's in favor of it, and he just wants it done efficiently. And he actually believes weapons will be found.

For more on the subject of reflexively believing what we read and hear, read this article "Do we believe everything we're told" with lots of links to other good stuff.

The short answer, sadly is: unless we're sure it's false, yes, we believe it.

7.
As pointed out by such diverse thinkers as Yogi Berra and Niels Bohr, predictions are hard, especially about the future.

Nonetheless I'm going to make a few.

Hillary Clinton's negatives are based on 24 years of flung shit plus anger from the Bernie Sanders side of the left. If she and Bernie kiss and make up, which I expect, her negatives will go down significantly.

Donald Trump's record-setting negatives are not going down, and despite some half-dead monkey voters that will love him nearly to the end, they will go up because more and more Republican candidates from Blue states will disavow him. As they have started doing.

And the media. As the media story shifts from: "Trump the insurgent" and "both are disliked" to today's "Poll: 70% have unfavorable opinion of Trump" then I predict reality will imitate art, and more will jump ship.

9.
Lesson learned. To reserve judgment is to believe.