The Homesman and the Writist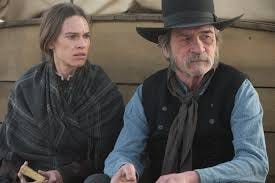 Last night we saw a film, The Homesman, at the Stonington Opera House. Hilary Swank and Tommy Lee Jones star, with cameo performances by John Lithgow, Meryl Streep, and the always entertaining James Spader.

Tommy Lee Jones, Wikipedia tells me, nominated his college roommate for President in 2000. No, it wasn't fellow-Texan George Bush. It was a guy named Gore. Turns out Tommy Lee is one of those Hollywood Liberals.

Who knew? Guy who talks that way a liberal? Wouldn't have guessed.

Hilary Swank plays a depressed, 30-year-old spinster who undertakes to transport three insane women from the tiny isolated farming town of Loup City in the Nebraska Territory to a church in Hebron, Iowa, that cares for the mentally ill. It's a thought-provoking story, as they say, but most of the thoughts it provokes are depressing ones.

But it was a good story, with outstanding acting, and I'm glad I saw it.

The movie is based on a book written by American Author Glendon Swarthout, (official site here) who also wrote a book about four midwestern coeds, on spring break in Fort Lauderdale, Florida. That book, called "Where the Boys Are," was the basis of a 1960 movie of the same name. I can still hear Connie singing the theme song. I can't imagine two more different stories.

Who knew?

Swarthout also wrote the book on which the John Wayne classic, "The Shootist" was based. Shootist is a great word for a guy who goes around shooting people.

I think I'm going to call myself a writist.

Ist is so much classier a suffix than er.