The Mr. Mikey Show (Review)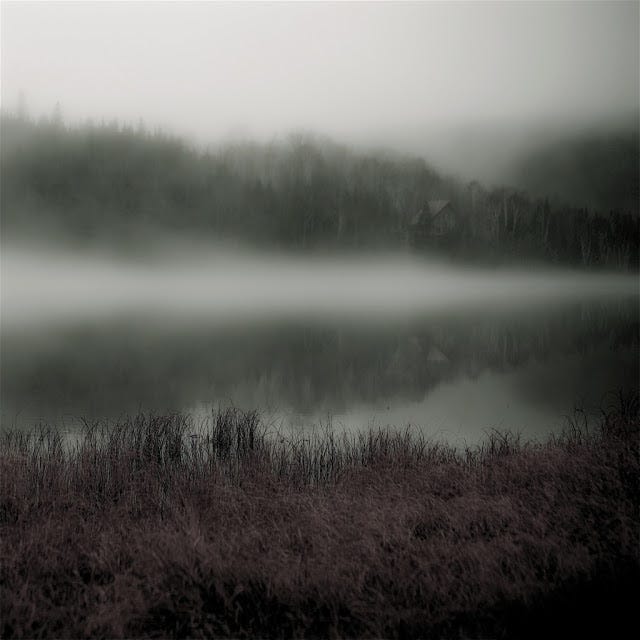 Photo credit: Denis Collette...!!! via Foter.com / CC BY-NC-ND
There's this show that I've been watching for years. It doesn't have a name, so I'll give it a name: "The Mr. Mikey Show." It seems to be the only thing that's on the only channel I get, so my choices are limited. And my feelings about the show are conflicted. So today I'm going to write a review, partly to clarify my feelings, partly in the vague hope that some of the writers or producers will read my review and improve the program.

Bottom line: it's a good show. I plan to keep watching. But it could be better.

1.
I'll describe myself as an avid, even obsessive viewer. I turn the show on first thing in the morning and I leave it on all day. From time to time I'll get really interested in an episode or a production detail, but mostly it's on in the background; it's something familiar to occupy spare attention as I go about my day.

I enjoy the show, now in its 73rd season. But sometimes I'm bored by a series of episodes, or long parts of a single episode. I'm not looking for a never-ending series of crises. No, let me say it more clearly: I don't want it to be a never-ending series of crises. But I'd really like it if they could have the main character solve a few of his recurring problems. Can't write? Again? WTF? Didn't we do that last season? The season before? Let's get him over that, and on to something new.

Last summer our hero had to deal with weeks of intense, chronic pain for the first time in many years. One recent episode stands out. It was night, and he was in so much pain that he couldn't lie in bed, much less sleep. Lying on the floor was better, but better is a relative term.

In one memorable scene, it's around midnight and he's trying to get to his "back buddy," a plastic tool that he uses to relieve occasional neck pain. He's got the idea that it will help. Really, he'll try anything. He's in the bedroom and his back buddy is in the utility room, and standing up is agonizing and walking is out of the question. So he gets to the back buddy by a combination of crawling, rolling, and skootching along on his back. He's in severe pain, and sees the irony of the situation. He's kind of laughing. So was I. LOL!

It was an interesting series of episodes -- in retrospect. He learned about how fucked up the medical system was. He gained new appreciation of how brave his wife -- who has had chronic back pain for years -- had been. And he decided that he'd want to find a better way to deal with pain and suffering because (spoiler alert) he knows there's more ahead.

That's the problem with some of these story arcs. They're interesting to recall, but I find that they're horrible to watch. They just go on, and on, and on. Thing get better. Then they get worse. Or they stay the same, day after day. That arc continued from July of last summer to just a short while ago.

Less of that. More of: "I've discovered what I need to do in order to write more."

Please!

2.
Maybe we'll have more stories about the lead character's growing ability to be "awake," as he calls it. This story arc started last season when he read a book that caused him to realize that he's not really awake: that he's been living his life as though he's watching a movie. That it's all an illusion. Ironic, isn't it? Here's a character in a show that he thinks is his life, realizing that he's a character in a show that he thinks that is his life -- and I'm watching the show in which he has this realization!

Great, mind-bending story line! Way better than "how much pain can he endure."

He starts having these waking up experiences. He comes out of what he describes as "his trance" and sees something familiar in his life as though for the first time. And in an important sense, that's true. It's been there but he hasn't seen it because he wasn't present. Or awake. Or something.

Every once in the while he tells one of the other characters about this kind of experience, and every time he does it, he goes through the same process of waking up. Again, irony. He starts telling the story from his trance, and telling the story about waking up, is what wakes him up. It doesn't last long, but he realizes that it doesn't last long. He's working on finding ways to wake himself more often, and to make the waking up periods longer.

He's making progress. I wish he'd make more progress, and faster, because -- oddly enough -- most times when he wakes up, I do too. For a short time the show stops being noise in the background and takes on immediacy. It's as though I'd forgotten the show was on, and suddenly I'm aware of it.

Maybe that's just a plot device to make me care about the character. Or maybe that's the whole point of this arc. Whatever it is, it works. I like it better than pain story, or the not writing story.

3.
As I've been writing this post, the show's been running in the background. Mostly, as usual, I've paid it no heed. But right now I realize that the lead character is writing a blog post, a review of a show that he watches, much like the one I watch.

At this instant, as I am writing this, I'm very aware of what he's experiencing as he writes his own review. How his fingers are moving as they type. How he just stopped and stretched. How he just sighed. How he found himself, momentarily, unable to figure out how to type the word "sighed." He's losing it!

LOL!

Great sequence, guys!

4.
A few recent episodes have been just plain weird, and this might be part of a new, developing story arc. I don't know. But for what it's worth, here's a recap, and some theories about what might happen.

A few episodes ago he was reading the internet late at night and read a long story about the Villanova basketball team, which had made the Final Four,. The story said that the players had called a press conference and refused to play unless their demands were met. The demands included:

... $25,000 for every player on every team in the 2017 NCAA tournament, health insurance for a minimum of 10 years after graduation, irrevocable scholarships, and the student/athlete's ownership of his or her own likeness and name, in perpetuity, plus the right to market them.
The story includes reactions from the all over the web and twitterverse, including: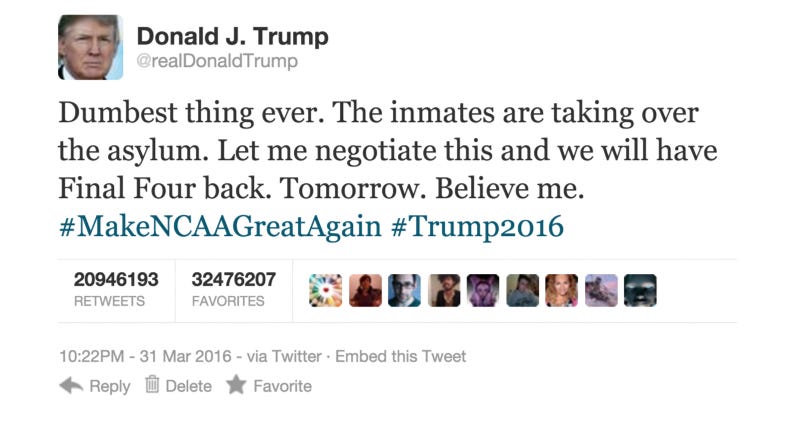 He went to sleep without finishing the article, which was nearly 1500 words long. So did I.

The next morning he got up and looked for it. He couldn't find it. Weird. But, you know, maybe it was just a strange dream.

The problem was that he was convinced it had been real. 1500 words. All sorts of details. Names of players. Names of lawyers. Reaction. Comments from readers. He searched and searched again. Nothing -- except Villanova had played and won their game.

How could it be! Had it been a dream? Had the entire internet agreed to keep it a secret?

He kept going back to search. So did I. He went through web history on every device he had. so did I. Nothing.

Finally, he thought: maybe this is a sign. Maybe I really am living in a dream. This thing happened, and the episode got yanked, and edited and redone for reasons that I could not figure out.

One last time, he says, and opens an incognito window, and tries to search again. He's thinking that the incognito window might be a channel through which something might send him a signal. And there it is! The signal!

The article, just as he remembered it. And this time he reads it to the very bottom, where the article is tagged: "Sports," "News," "April Fools Day."

Crap! The date is, in fact, April 1. He'd been suckered.

But wait, he thinks. Isn't that exactly how bizarre plot twists in other shows sometimes get resolved? It was a dream. There was a parallel universe. It was April Fools Day.

It made sense, and yet the sense of unreality lingered.

That night he went to bed, and woke up crying out. This time, he knew, vivid as it had been, that he had been immersed in a dream.

But still.

It seemed so real.

Looks like season 74 is going to have to have some interesting plot twists, and some thought-provoking ideas about the nature of reality.

I'm going to keep watching. I hope he writes more. I like it when he does that.

And I'll let you know what happens.