The tree of life, its span and it's strength.


People worry about us destroying life on this planet by our activity. But that's not likely. We might fuck ourselves up, our family--the family of life is just too tough.

Just take a look at our family tree, the tree of life, taken from this website. Time is an expanding half-ellipse. The center is the moment of birth of the earth. The appearance of the first life form, the origin point for the tree, is about a half-billion years in--about 3.5 billion years ago. The outer perimeter is the present. Branching lines from the origin to the present are the evolutionary paths that led to a modern creature.

What do you see? You see more and more different kinds of life as time goes on. It's pretty much unstoppable, despite disasters and some setbacks. The labeled dotted lines are major events--all but one bad for life--in the sense that many species died off and the march to moden diversity was slowed for a bit. One of the events, the Cambrian explosion could be called good. The scale is non-linear. So one unit close to the center is a billion years. A unit close to the edge is a mere 50 million.

The color bands represent similar families of living creatures. At zero degrees on the circle (farthest left) and in the region colored brown are the simplest ones, bacteria. They evolve to become different kinds of bacteria, over the entire time of evolution. At 180 degrees is the most complex--homo sapiens. Note that every species on the outer edge is exactly as "evolved" as every other one. 3.5 billion years for each. So the length of the path to reach a point measures diversity not time. Each species takes the same amount of time to get to the edge. but maybe not the same number of generations.

The site is interactive and interesting to play with. If you click on the name of a present species, you'll see an animated line from that species and from humanity at the far right back to our latest common ancestor, and an animation to show how long ago that ancestor lived.

The site makes clear a couple of things. First: this is OUR family tree. It shows how we are related to every currently living individual on the planet. We have distant cousins--like the dinosours, who are no more. But every living creature is a relative. It's just a question of how far back you want to go to find your common ancestor. See that dog? That's my 270 millionth cousin, 24 million times removed. Common ancestor, my great, great, 27 million greats grandparent, about 85 million years ago. That turtle? That's my 175 millionth cousin, 95 million times removed. Common ancestor a 175 million greats grandparent, about 320 million years ago. That butterfly? 300 millionth cousin 100 million times removed. Common ancestor a 300-million-greats grandparent, 500 million years ago. That tree? Hi, cousin. That bacterium. Oh, sorry, you've got to look in a microscope to see him. But he's my cousin. And yours, by the way.

Notice what happens during the Cambrian explosion, which happens about 500 million years ago. (It starts when the purple band appears and ends around where the blue band appears.




For the first 3 billion years, not all that much diversity. We go from bacteria, through plants to sponges and corals. Wikipedia says:

Prior to the Cambrian explosion most organisms were simple, composed of individual cells occasionally organized into colonies. Over the following 70 to 80 million years, the rate of diversification accelerated by an order of magnitude[note 3] and the diversity of life began to resemble that of today.

Now look at what happens in the "mass extinctions."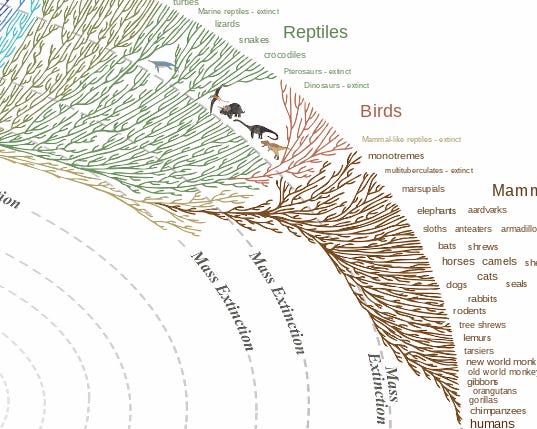 Now look at what happens in the "mass extinctions." A lot of those branching lines are broken, meaning that a species died out. But in short order, in geologic time short order that is, as you can see in the inset above, or the tree of life that heads this article or on the interactive site, diversity is restored. Life is pretty hard to shut down.

A favorite quote, from Michael Crichton's "Jurassic Park:"



"You think man can destroy the planet? What intoxicating vanity. Let me tell you about our planet.
Earth is four-and-a-half-billion-years-old. There's been life on it for nearly that long, 3.8 billion years. Bacteria first; later the first multicellular life, then the first complex creatures in the sea, on the land. Then finally the great sweeping ages of animals, the amphibians, the dinosaurs, at last the mammals, each one enduring millions on millions of years, great dynasties of creatures rising, flourishing, dying away -- all this against a background of continuous and violent upheaval. Mountain ranges thrust up, eroded away, cometary impacts, volcano eruptions, oceans rising and falling, whole continents moving, an endless, constant, violent change, colliding, buckling to make mountains over millions of years.
Earth has survived everything in its time. It will certainly survive us. If all the nuclear weapons in the world went off at once and all the plants, all the animals died and the earth was sizzling hot for a hundred thousand years, life would survive, somewhere: under the soil, frozen in Arctic ice. Sooner or later, when the planet was no longer inhospitable, life would spread again. The evolutionary process would begin again.
It might take a few billion years for life to regain its present variety. Of course, it would be very different from what it is now, but the earth would survive our folly, only we would not.
If the ozone layer gets thinner, ultraviolet radiation sears the earth, so what? Ultraviolet radiation is good for life. It's powerful energy. It promotes mutation, change. Many forms of life will thrive with more UV radiation. Many others will die out.
Do you think this is the first time that's happened? Think about oxygen. Necessary for life now, but oxygen is actually a metabolic poison, a corrosive glass, like fluorine. When oxygen was first produced as a waste product by certain plant cells some three billion years ago, it created a crisis for all other life on earth. Those plants were polluting the environment, exhaling a lethal gas. Earth eventually had an atmosphere incompatible with life. Nevertheless, life on earth took care of itself. In the thinking of the human being a hundred years is a long time.
A hundred years ago we didn't have cars, airplanes, computers or vaccines. It was a whole different world, but to the earth, a hundred years is nothing. A million years is nothing. This planet lives and breathes on a much vaster scale. We can't imagine its slow and powerful rhythms, and we haven't got the humility to try. We've been residents here for the blink of an eye. If we're gone tomorrow, the earth will not miss us."