Things I'm excited about in 2020
Mira asked our extended family group to say what we're excited about in 2020. What are we looking forward to?
Holy crap! What am I not excited about?
What am I not looking forward to?
(Fuck you, Grammarly. I like those sentences, even if they end with prepositions.)
The Tony Robbins story
I remember reading Tony Robbins' book, "Awaken the Giant Within" years ago. IIRC he asks two men how their lives are going.
The first one: "Well, not so good. I planned to make $12 million this year and came in with just under $10 mill. And then I've been training to run a five-minute mile, and I can't get it under 5:10."
The second one: "Great! I woke up this morning, and I was still above ground!!"
That's the way I feel.
I'm not dead yet, and that's enough.
The lenses through which I'm looking at life turn everything into a miracle.
(Hint: the lenses don't include drugs unless you count SuperPlacebo. And Modafinil, which seems less and less necessary.)
I am surrounded by miracles.
Like flowers!! How does that amaryllis bulb know how to make an amaryllis.
Like writing. How does that happen, anyway? Really, how is this blog post getting written? Where did this sentence come from? Don't tell me it's neurons. Are you kidding? Then neurons are a miracle.
And speaking of writing, I'm really excited about writing.
Writing
I started my blog a few days before I hit 70. Well, this blog, anyway.
It's been seven years, and I've published 513 posts.
513!
That's a worthy accomplishment.
I'm sure some of them suck, and maybe the all suck for you. But I didn't write them for you. I wrote them for me. And for Future Me.
When I read one of my earlier posts, I'm usually surprised and pleased to see how good I think they are.
Thank you, Past Me, for writing all this stuff.
So I'm excited about writing a ton this year and looking forward to making my writing better.
Why? Are you kidding? Words are appearing on the page. Miracles in action!
And I'm also excited about reading more of those old posts and maybe doing something with some of them.
Podcasts
There are two reasons I'm interested. No, three. No…more.
No one expects that Spanish Inquisition!
More and more, people are getting information and knowledge from podcasts, either in addition to or rather than books. The reason that I think this is happening might be a topic for another post. Or not. The point is: they are.
One of my top fans (Mira) has told me that she doesn't read much, but she listens to podcasts all the time, so if only to reach her, I'm motivated to put my posts in listenable form.
We've been talking about me doing one, or us doing one together, and I've got two ideas from our discussion: one is "I'm not dead yet' or maybe better "You're not dead yet." Another is: "See one, do one, teach one." More on both of these later.
Writing
Did I mention writing? Oh, right, I did. Well, the last section alone has a bunch of things that I want to write more about, and I'm excited about writing them.
Virtual Reality/Augmented Reality
AR and VR are happening, and they are going to change the world. (And I'm going to write about them)
A couple of years ago, I was given a Google Daydream headset (thank you Daniel (and Dana)), and a demo of an HTC Vive gaming headset (thank you, Konrad), and I was blown away by both. This year I got was given an Oculus Quest headset (thank you Alyssa and Kon) and holy crap! It was beyond amazing. I started thinking about things that I could do with that technology–and got myself an Oculus Go to experiment with, and I've just upgraded my power workstation to one that's Windows Mixed Reality capable. (Thanks, Justin and Daniel for help getting me going)
AR/VR are entertaining, sure, but that's not what's got me stoked.
It's the potential for transforming education. No, it's the potential for transforming people.
There's another post right there.
You won't appreciate the difference between seeing a picture and being immersed in an environment until you put on your headset and travel somewhere.
Music
I love music. If I'm in a funk, I can defunk myself pretty reliably by playing some uplifting music.
A few weeks ago, I decided to try writing songs about some of the ideas that I've written about and some that I haven't. The theory is (and here's something else to write about) when you constrain the ways you can solve the problem, you sometimes come up with a better solution–one that you would not have discovered without the constraint. This is how poetry works. It's also something I learned from reading Edward DeBono's "Lateral Thinking."
When I was around sixty-two or -three, I had the idea of writing rock opera, "Still alive at sixty-five." Then Tom Rothschild died, and it seemed wrong to celebrate.
More likely, that was just a convenient excuse. But whatever. Seventy-five has passed (and would have sucked because of the extra syllable), but eighty-five and ninety-five both look good. So why the fuck not?
So I started digging into how people make music these days, and holy crap is that interesting!
Here's the idea that's stuck in my head (and another post) "Life plus tech equals music."
Writing
Did I mention writing about what I'm learning about music creation? Not specifically. But, yeah.
Software development
I've been on a quest my entire professional life to create a set of tools to match a vision that I have about software creation.
This past year I collected some tools that others had developed that start to approach my goal. So I'm excited about that, too.
Writing
Did I mention that I want to write about that, too?
And so on
The world is full of possibilities. I am full of possibilities. This post could go on for pages and pages and pages.
But enough.
You get the idea.
More importantly, I get the idea. And now it's time to post this and write and do some of the other stuff that I'm excited about.
Still with the prepositions, Grammarly?
Remember: you're not dead yet. And neither am I.
(Bonus: Here's Moby in his studio around the time he produced "Play," one of my favorite albums. (YouTube)The reason there's so little tech around him is: it was around 30 years ago, and it's his apartment, and there's not much room.
Enough!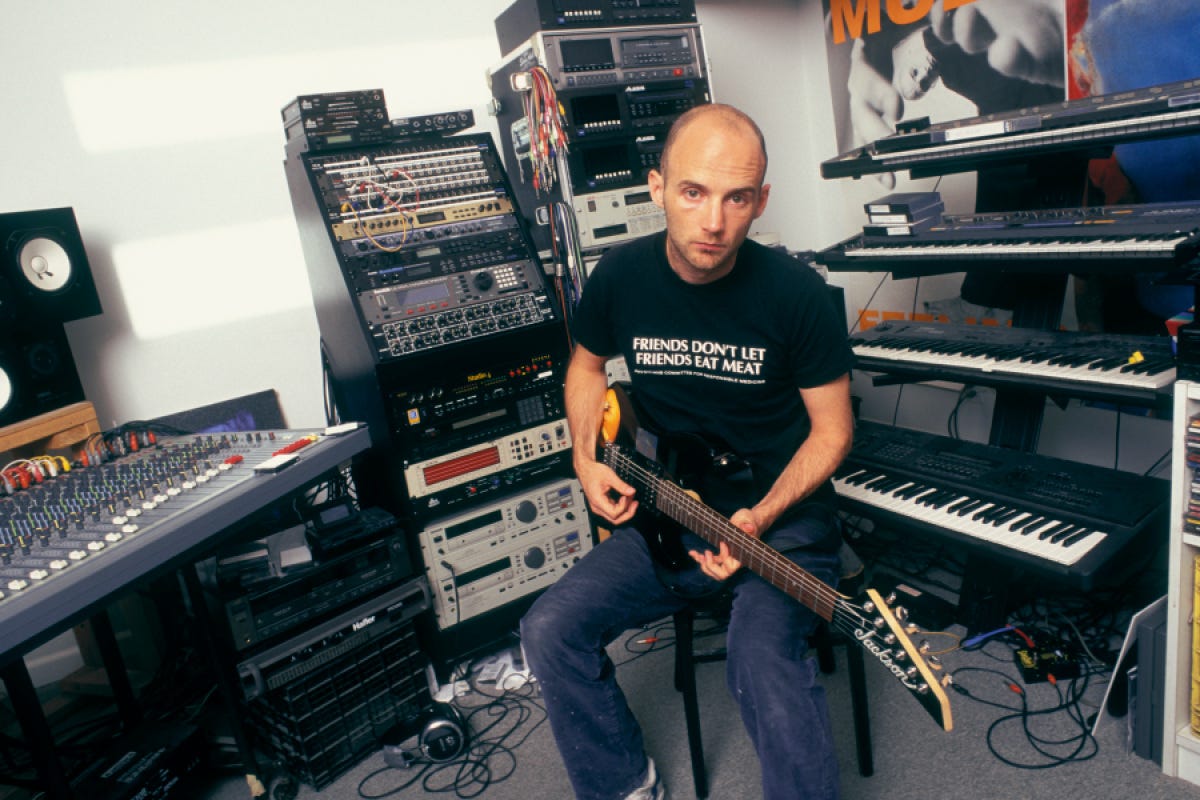 Click here to subscribe to 70 Years Old. WTF! by Email
​